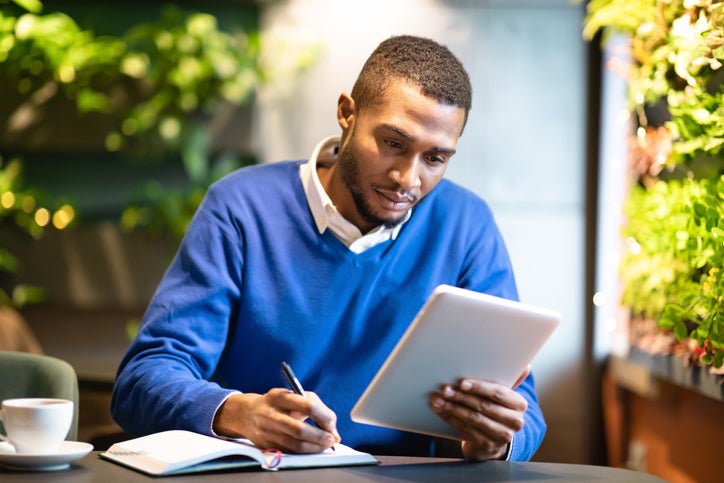 You don't need money to start your own business.
---
Important points
Even if you start up with no money, you need income and emergency assets for a financial cushion.
Focus on the key elements that make your business successful, including your product, your customers, and your marketing.
Connect with your existing connections or social media to reach potential customers.
---
Starting your own business can be a great way to increase your earning potential and enjoy your work more. Although it's not easy, in a small business you are largely in control of how it works and how much you make.
One of the first challenges many entrepreneurs face is starting a business with no money. While this makes it harder, you don't need a fortune to get your business off the ground. Entrepreneur Ramit Sethi has built several successful businesses and has some great tips on how to get started with little to no money.
1. Build a financial cushion
In order to set up your company successfully, you need a financial cushion. This will help you overcome any obstacles that you may encounter while starting your business. If you have no income, no savings to pay bills, and rely on your business to start making money right away, you're putting yourself in a really difficult position. So what should you have to be sure?
First and foremost, a stable income is a must. This can be a job, driving for a ride, or any other way you can earn money to pay your bills. While you probably want to dedicate all of your time to your business, the reality is that most small business owners have to find other jobs first.
Make sure you also have an emergency fund. Have at least enough in a savings account to cover three months of living expenses. This gives you security in the event of any financial emergencies.
2. Concentrate on the essentials
When starting a business from scratch, it's important to focus on what matters and forget about the rest. Sethi's website states that there are three things you need for a business:
something for sale
customers to sell
Marketing to communicate with customers
To make the most of your time, everything you do for your business should focus on one of these three things. Brainstorming and designing a product is absolutely essential because without something to sell you don't have a business. Customer research is also necessary to get to know your company's target audience better.
On the other hand, there is a lot of fluff that is not worth your time in the initial stages. Take creating a logo as an example. Logos are important. But if you start a business with no money, you can't hire a designer anyway. Even if you can, it's far better to focus on more immediate concerns, like what you're selling.
3. Decide what you want to sell
Every business involves the sale of something, even if it's not a physical product. For example, when you go into business as a freelancer, you're selling the services you provide. Selling is what makes your business money, so deciding what to sell is an important part of starting your business.
Here are some examples of what a business can sell:
Handmade products
Services, such as photography or web design
educational materials such as B. Courses related to your specialty
This is often the most difficult part of starting a business. Many would-be entrepreneurs have felt stuck in neutrality because they don't know what their business should be. A great suggestion Sethi has for finding business ideas is to combine your skills and passion with a company. Make a list of the things you are good at, and then think about how to sell them.
Let's say you're into fitness. Personal training is an obvious way to sell this, but that's not all you could do. Many personal trainers branch out and start online businesses. You can create and sell special routines designed for clients with specific goals. Some also offer a monthly subscription to in-depth training courses. There are even those who design and market their exercise equipment.
Once you have a product or service, it's time to go ahead and start selling. And in this case, "going out there" doesn't necessarily mean getting out of anywhere, although you can if you want to. The internet has made it much easier to reach potential customers.
Look for groups of people who would be suitable for what you are selling. Social media is great for this. Facebook has a variety of groups, LinkedIn allows people to connect with others in their industry, and Reddit has subreddits for almost everything. These are all great ways to talk to customers, get feedback, and promote what you have to offer.
Now, a word of caution: don't get too aggressive with the way you market your business. People often aren't receptive if you join a group and immediately start selling them stuff.
Keep in mind that you only need to acquire the first few customers here. You may not see results overnight, but if you connect with your target audience, it will happen. To give a first-hand example, when I first started out as a freelance writer, I got clients just by talking to small business owners on LinkedIn. Once you have some money in your business bank account from those first customers, you can build from there.
Don't think you need thousands of dollars to start your own small business. There are many ways to start a business with little or no money, as long as you are willing to put in the work.
Business credit cards handpicked by experts with rich rewards and perks
Cashback, travel rewards, 0% introductory APR funding: all of these can be great credit card perks for business owners. But how do you find the right business credit card for you? There are tons of deals on the market today and it can be a hassle to sort through them to find the right one. So we did the hard work for you.
Get started today with one of our top business credit cards for 2022.