The World Cup in Qatar was mired in controversy before it began, and less than a week into the tournament, that theme has continued.
Ahead of Iran's opening Group B game against England, their players stood in silence during the national anthem in a show of solidarity with the government in their home country.
But ahead of their win against Wales this morning, the players sang the national anthem while cheers could be heard from the crowd, with some fans pictured crying.
It remains unclear whether any pressure was put on the players by their government, but some Iranians may now see their protest before the game against England as meaningless.
A background to the protests
Since the Islamic revolution in 1979, Iranian women have been required to cover their hair with a hijab in public.
These rules were eased slightly under President Hassan Rouhani between 2013 and 2021, but his successor, President Ebrahim Raisi, takes a much tougher stance.
There were already simmering tensions in the country, but the death of 22-year-old Mahsa Amini on September 16, 2022 has sparked outrage.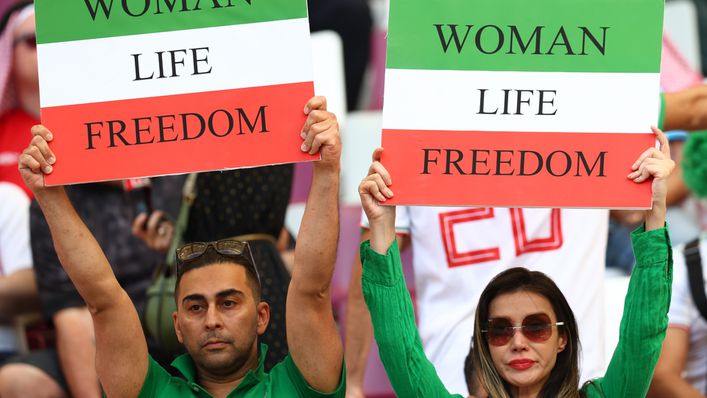 Amini was arrested for wearing an inappropriate hijab. Eyewitnesses said she was badly beaten by emergency services and suffered traumatic head injuries.
There have been many arrests and reported deaths, with a surge in mass protests in the two months since her death.
And Iranian football fans are demonstrating in Qatar, holding up signs reading "Woman, Life, Freedom" and football shirts with Amini's name on them.
Iranian World Cup players "could do more with their platform".
Activist Sally Javadi, who regularly uses her Instagram platform to raise awareness of the conflict in Iran, believes many Iranian citizens are not supporting their nation at the World Cup.
According to their sources and viral videos on social media, they have been campaigning for England and Wales to win as they believe players should use the publicity at their disposal to take a stronger stance against their government.
Javadi told LiveScore that a more visible action could have been taken by the players, as demonstrated by beach soccer player Saeed Piramoon, who celebrated his goal in the Intercontinental Beach Soccer Cup final by pretending to cut his hair, a gesture who are recognized as showing solidarity with women in Iran.
Iran's water polo team also stood silent during the national anthem earlier this month, but their platform is much smaller than the soccer team at the World Cup.
Their protests can have serious repercussions, as illustrated by the arrest of footballer Voria Ghafouri on Thursday for "spreading anti-state propaganda".
Ghafouri has been a vocal critic of the Iranian regime and recently called on the government to stop killing people on Twitter.
The consequences were far more serious for women, as sport climber Elnaz Rekabi briefly disappeared after competing without a headscarf in protest in South Korea.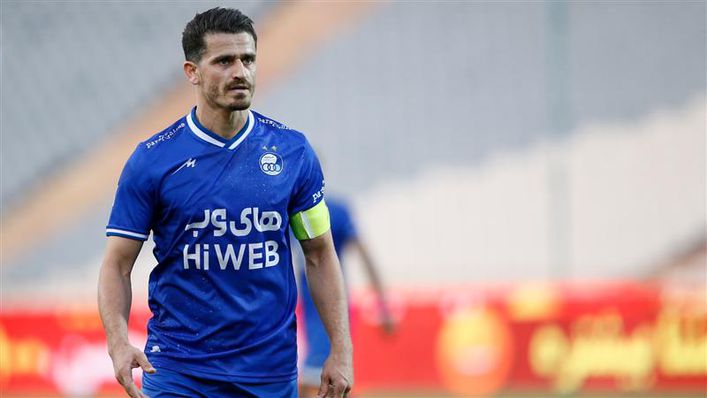 On her return to Iran, she was greeted by supporters for her solidarity, but there have been no reports of her whereabouts since.
Iran captain Ehsan Hajsafi has expressed his support for the protests ahead of the England clash.
Hajsafi said, "They should know that we are with them. And we support them. And we sympathize with them on the terms.
"We have to accept that the conditions in our country are not right and our people are not happy. We're here, but that doesn't mean we shouldn't be their voice or not respect them."
The chances of the national captain being sanctioned on his return seem slim given his high profile not just in Iran but around the world.
What is certain is that while Iran's dramatic win over Wales in their second group game has brought the nation a temporary sense of unity and elation, the future of the citizens there remains threatened by the current regime.