The clean room in Newport, South Wales is the size of a football field, but is known in the industry as a ballroom. Workers in full body suits move silicon wafers from end to end in a series of careful steps. The 20 cm long silicon wafers are thoroughly cleaned in chemical baths before light is used to draw precise patterns, which are then etched out. Everything takes place in an orange dim light to prevent photosensitive chemicals from reacting.
After robots and humans test for bugs, owner Nexperia ships thousands of wafers each week to its other plants in Asia to be sliced ​​into hundreds or even thousands of pieces. These, in turn, are shipped around the world to be used in circuit boards that control the flow of electricity to devices ranging from vacuum cleaners to Jaguar Land Rover cars.
"A chip travels around the world twice before it's used, not just for Nexperia but for any other company," says Toni Versluijs, the Dutch company's UK Country Manager, in an interview at the factory.
Governments want to be part of the semiconductor industry. More than a trillion chips were used worldwide last year to control all kinds of electronic devices. But the Newport plant's international connections have put it in the crosshairs of the British government. Nexperia is owned by Chinese company Wingtech, which critics say could come under Beijing influence. Now ministers have ordered Nexperia to give up the Newport site, 16 months after it took it over in July last year.
The company is outraged after passing scrutiny by Boris Johnson's business department and national security adviser. It has pledged to do whatever it takes to reverse a decision it says will put 550 jobs and an £80million investment program at risk.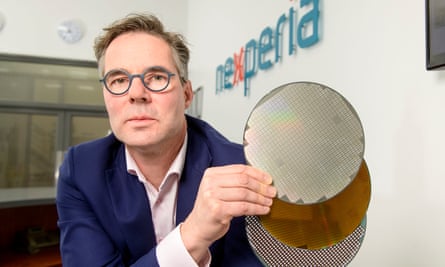 Its executives have gone further, telling the Guardian that they were considering an investment program to double or even triple production, with the option of building two new factories (known as fabs) in response to a global semiconductor shortage .
Paul James, chief executive of the Newport factory, says the plans – which are still in an early "concept" stage before judgment – would be worth hundreds of millions of pounds in additional investment and could triple the workforce at the site to 1,500. "That was the next logical step," he says, noting that the government's decision was "political rather than fact-based."
Announcing potential expansion is a last-ditch effort for Nexperia to persuade the government to change its mind, and some in the industry are skeptical that a company would expand now that its recent boom looks set to collapse. The company has three weeks to seek judicial review of the decision or divest the site.
Workers at the factory are not authorized to discuss the situation, but the staff association wrote to Business Secretary Grant Shapps this week opposing the intervention and met his Labor shadow, Jonathan Reynolds, in Parliament on Wednesday. Shapps told Parliament he was privy to information he could not share.
Mary Curtis, a program manager who has worked at the plant for 35 years and is a member of the association, says workers were unanimously shocked. "It's so unfair. We went through a very difficult time, but everything seemed a lot rosier," she says. "It feels like a real kick in the teeth."
China critics have welcomed the government's intervention and feared Beijing's strategic vulnerability. In the US, Joe Biden has pushed through plans to invest $52 billion (£44 billion) in his chip industry, and the EU has announced it will invest €43 billion (£38 billion) to address similar concerns.
Edward Stringer, a retired Air Marshal who is now a member of the Conservative Party-affiliated think tank Policy Exchange, says "it could well be the right decision" although he believes the government needs a "better articulated set of policies" needs for such sovereign capacities and especially for semiconductors". He adds: "It would not make sense to allow China to control any vital link in these chains."
Ministers' public rationale for intervention focuses on the potential for South Wales to expand into manufacturing more complex chips known as compound semiconductors. In a statement that didn't specifically mention China, the government said that if Nexperia becomes involved in the manufacture of such items or becomes part of a group of local companies working on the technology, its current holdings pose a threat to national security could.
Compound semiconductors, made up of two elements like gallium and arsenic, are more energy efficient than traditional silicon devices, and demand for them is growing faster than traditional variants.
The government appears to be backing an argument by former Newport Wafer Fab owner Drew Nelson, a former research scientist-turned-entrepreneur, that the factory should have a central place in the UK's attempts to build its semiconductor industry. Nelson bought the factory in 2017 in a management buyout backed by the Welsh Government but lost control to Nexperia after financial difficulties.
His plan had been to develop the most conspicuous part of the facility – a collection of blue and yellow tubes built in the 1980s in the late architect Richard Rogers' signature inside-out style – to serve wafers to other companies on open- Establish Access base. instead of only supplying Nexperia factories. Nelson declined requests for an interview.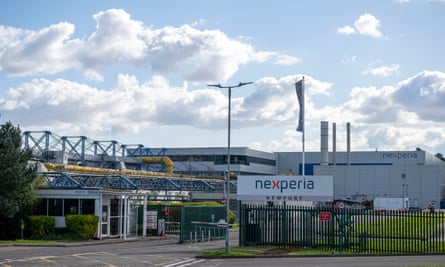 Ron Black, CEO of Codasip, which makes tools for designing microprocessors, has also expressed an interest in taking over the factory if the merger is reversed. He says the government made the right decision and a consortium he put together is still interested, although unsure of the process for a Nexperia sale. Black has been in talks with Nelson.
Versluijs has been scathing about the government's claims of national security concerns over compound semiconductors, calling them "extremely far-fetched" and "strange". "It reminds me a bit of the Thought Police or the Minority Report … when people are judged on what might happen, what might happen."
The factory's former owners have accused Nexperia of misleading MPs by saying that the plant was in fact capable of producing compound semiconductors before Nexperia took over. Versluijs vehemently denies this, and his company says there has only ever been "some partial processing of a few wafers in a project where basic technical support was provided, but never open-access semiconductor capabilities."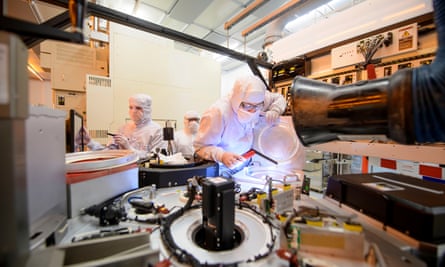 "We think it would do the cluster more harm than good here" to reverse the takeover, he says. "We believe we are an asset, not a liability."
The people of Newport seem unaware of the dispute over national security and Britain's semiconductor industry. But well-paying jobs are highly valued in a city that encompasses some of the most deprived areas in Wales. Former sources of wealth have come and gone as the city braces itself for the impact of the coming UK recession.
"Everybody's struggling right now," said Beccy Paget, co-owner of Busy Bees Patchwork, a sewing shop near the factory. "If this company goes, people who work there may not buy from us anymore."
Ruth Jones, the Labor MP for Newport West, is "baffled" by the government's decision, citing previous reviews that found no concerns about the Nexperia takeover.
"Nothing has changed since then, so why is it calling now?" she says. The company's employees "are local… Losing those jobs would be devastating."