content of the article
The city's biggest soccer hub hopes to become the party hub for Londoners looking to support the Canada national team during this year's 2022 World Cup in Qatar.
content of the article
The BMO Centre, which hosts more than 4,000 people from across the London area each week to play indoor soccer, has reserved its largest meeting room to watch Canada's games during the international soccer tournament and is opening its doors to the public free of charge.
content of the article
"Every game that Canada plays, we will be televising here at the BMO Centre," said Tom Partalas, who runs the 120,000-square-foot indoor soccer facility on Rectory Street.
"We're the hub for football in the city and we want people to come and celebrate with us."
Canada's first game of the tournament takes place on Wednesday at 2pm against Belgium, one of the strongest sides in the world. The game marks the first time the Canada men's team has played a World Cup match since their last appearance in Mexico in 1986.
content of the article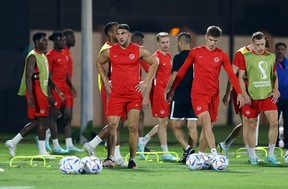 The room dedicated to the national team games has a capacity of about 300 people, along with a projector and a big screen to watch the games.
Other areas in the center can also be made available as more people turn up for the games, Partalas said.
"We will try to win as many people as possible," he said. "There are a lot of people who weren't even born when Canada was last at the World Cup, so for a lot of people this is their first time and I want the young kids to be a part of it because it's a historic moment is. "
Although Belgium will pose a major challenge for the young Canadian side, Partalas said he was optimistic about the team's chances of achieving a good result and progressing through the group stage.
He said his optimism was heightened on Tuesday after Saudi Arabia shocked the footballing world with a 2-1 win over Lionel Messi's Argentina in what is already seen as one of the biggest upsets in World Cup history.
"If Saudi Arabia can beat Argentina, why can't Canada beat Belgium?" he said. "We have a good young team and if everyone stays healthy and has a bit of luck I think we can surprise Belgium."
Twitter.com/JuhaatLFPress
The defeat for Messi and Argentina is one of the biggest upsets at a World Cup ever

World Cup: Qatar 2022 fan village draws comparisons to Fyre Fest