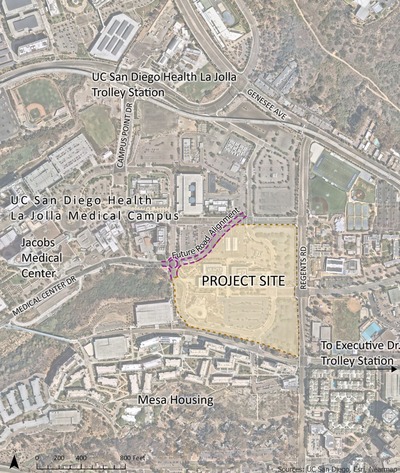 The continued development of the Science Research Park fosters the physical, cultural, and intellectual transformation of UC San Diego by pursuing architectural and design excellence, utilizing public transportation, and supporting the university's sustainability goals. In creating a space that supports collaboration and innovation, gathering spaces will encourage socialization and will include dining, recreation and spaces for curated programs that encourage a dynamic goal of innovation.
In developing this research ecosystem, Wexford will leverage its knowledge community model to create an environment designed and curated for collaboration between university researchers, corporate innovators, entrepreneurs, academics, artists and the community. This will help advance university initiatives, expand and enhance UC San Diego's teaching and research base, enable students to learn from industry-leading scholars, and attract private industry tenants looking for joint research or other collaborative projects with look for the university.
"The advancement of the Science Research Park is a catalytic opportunity," said Thomas Osha, Executive Vice President of Wexford. "Not only to bring together research, programs and companies around life science and technology, but also to trigger the creation of a larger innovation district that can attract new thinking, new partners and new ideas to the region."
UC San Diego is a global research and academic medical powerhouse with annual revenues of more than $6.9 billion (FY22) and $1.64 billion (FY22) in sponsored research. As a multi-billion dollar research company in the heart of one of the nation's most concentrated centers of innovation, UC San Diego produces high-impact innovators who translate fresh ideas into solutions that benefit society.
UC San Diego is also among the top universities in the country for creating startups, and to further foster innovation and spur future scholarship and investment in startups, 15% of the new space within the park will be dedicated to smaller startup companies. The developer has also committed $5 million in early-stage venture capital to support breakthrough researchers and technologies.
For over sixteen years, Wexford has been at the forefront of creating a new value proposition for fully integrated innovation districts, known as knowledge communities, as primary drivers of economic development in many metropolitan areas. The Science Research Park will be Wexford's seventeenth knowledge community developed in partnership and anchored by a leading university or research institution across North America. Currently, Wexford is in major urban centers including Baltimore, Chicago, Durham, Miami, Philadelphia, Pittsburgh, Phoenix, Sacramento, Seattle and St. Louis.