Carmen Vitali
NFC North Reporter
By the time Thanksgiving ended, they had reached 9-2 the hard way. But the Minnesota Vikings will take it.
Minnesota won another one-score game. Apparently this is the only way they know how to win this season; The Vikings have the NFL's second-best winning percentage but 14th-best point differential. All but one of their wins this year have come from eight points or fewer, and often involve an exciting finish. See Week 10 in Buffalo for recent dramatic evidence.
But while Thursday night's game ended like so many others this season, this time was a little different. The team suffered an embarrassing loss to the Dallas Cowboys last weekend, one of those games where nothing goes according to plan. They needed a win this week, a hell of a four day turnaround. And when the artificial snow fell as part of the pregame celebrations at US Bank Stadium on a chilly Thanksgiving night in Minnesota, a determination came with it.
The neon lights were bright, a SKOL chant boomed out from the crowd. But on the field? Especially in #8's face? It was nothing but calm.
At the first Thanksgiving game, held in Minnesota, all eyes were once again on the Vikings. Prime time has almost always caused problems for quarterback Kirk Cousins. Early on, this game seemed to follow that exact narrative, with Cousins ​​being picked up by New England's Jonathan Jones in the first quarter. But that previous calm never left his face. Even when Minnesota only managed a field goal on the next possession, Cousins ​​stayed tuned. They then scored a touchdown and took the lead.
There were five lead changes during the game. There were also five straight points. New England moved at will against a missing Vikings high school, lost several starters and gave up the second most yards of any team in the league before the game. Minnesota also failed to build pressure for most of the game. Probably a symptom of back office worker Dalvin Tomlinson being inactive again. But the Vikings' confidence did not waver.
"We have absolutely no doubt," said veteran cornerback Patrick Peterson. "With the guys we have in this dressing room, we understand how to set up and win ball games. We've done it all season so far […] If we can continue like this and build trust, we'll see where that takes us in the long run."
Thursday was a test of that confidence, especially when it comes to players like cornerback Duke Shelley, the team's fourth-string corner. Patriots quarterback Mac Jones has been tormenting Shelley all night with mixed results. The Vikings gave up a total of 364 yards through the air on 39 attempts by Jones.
Toward the end of the game, Minnesota finally seemed to get creative offensively, and the results followed. They sacked Jones twice in the fourth quarter, having only matched him once previously. Danielle Hunter lost, one for three, just before the two-minute warning that forced the Patriots to a fourth and 16th try. Ross Blacklock got one that took a valuable 25 seconds off the clock in the last minute. The defense found things out in the end and closed them.
Meanwhile, the offensive kept Minnesota in the game. The Vikings completed 81.6% of their passes during the night. That's the second-highest completion rate of all time against a Bill Belichick-led Patriots team.
That was thanks in large part to wide receiver Justin Jefferson, who caught all but two of his targets. He needed just 55 yards into the game to break the record for most receiving yards by a player in his first three seasons. a record previously held by Randy Moss. Jefferson caught nine of 11 passes thrown to him for 139 yards and a touchdown. And would you believe that's only the fifth-highest total of the season for him?
After the loss to Dallas, Jefferson called for more adjustments on offense and within the game. They'd done the same thing over and over again against the Cowboys, with miserable results.
Jefferson got his adjustments on Sunday against a very good New England defense.
"They definitely gave us some mixed coverage throughout the game, doubled me up a few times, but that didn't stop Kirk [Cousins] from giving me those 50/50 balls or going up and having them catch them," Jefferson said after the game. "I've been asking him to do that all year since I've been here. I feel like every week he's getting more confident in giving me these types of balls and I just love going out and making a game.
These 50/50 balls mostly came across the field. Jefferson caught his 21st pass from 20 yards or more during the game. He has now surpassed Tyreek Hill's total this year. His six-yard touchdown pass came on Minnesota's first drive of the game, the fourth time he's done so this season. No other player in the NFL has more than two opening drive touchdowns.
Jefferson also completed a pass to Adam Thielen on the drive, becoming the first player since 2004 to complete a pass and catch a touchdown on an opening drive.
This style of Vikings football is fun, if probably stressful, for Minnesota fans. But they're coming out on the right side of these games for the first time in a while. They were 6-8 in one-score competitions last season. They have won all eight so far this year.
Your pass defense will be a bigger problem against better teams later on. Going forward, if adjustments were needed on offense in this game, Minnesota will need to venture outside of their cover-2 comfort zone. They don't have the sane staff to run it. But should Tomlinson return next weekend — and all signs are pointing to it — they could hope and pray to get to the quarterbacks before they can throw and take some pressure off the ailing secondary.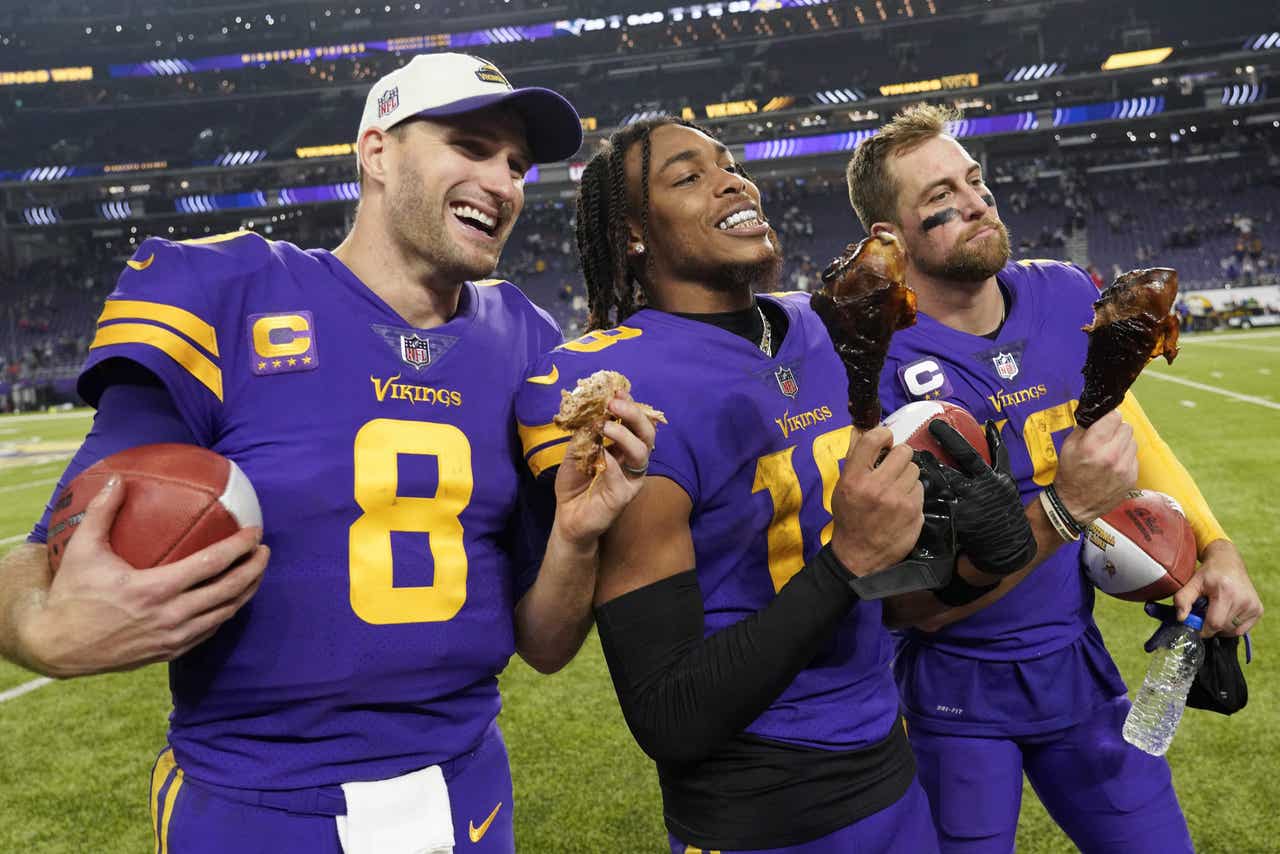 Minnesota Vikings' Kirk Cousins, Justin Jefferson and Adam Thielen eat turkey drumsticks on the field after defeating the New England Patriots at US Bank Stadium. (Photo by David Berding/Getty Images.)
"My goal here is for our organization to be ready to pull it all together, even if people don't give us a chance or if things get difficult," said O'Connell after the game. "That's where I think the best parts of our team come out. I think that will continue to serve us well this year as we continue to improve as a football team."
Those victories haven't come easy for the Vikings this season, but they'll go 9-2. Even if it's the hard way.
Carmen Vitali covers the NFC North for FOX Sports. Carmen previously had stints with The Draft Network and the Tampa Bay Buccaneers. She spent six seasons with the Bucs, including 2020, which added the title of Super Bowl champion (and Boat Parade participant) to her resume. You can follow Carmen on Twitter at @CarmieV.
---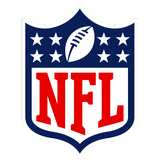 Get more out of the National Football League Follow your favorites to get information about games, news and more
---
---