In the third quarter of 2022 (July to September), OOKLA.com had a Wi-Fi test conducted at US airports using Speedtest Intelligence. The company wanted to see how WiFi speeds were performing at airports across the country and found that of the 50 airports it surveyed, 17 had excellent connections, while 12 were embarrassingly slow. So who prevailed? Let's take a look.
San Jose goes to the top
OOKLA has found that the free WiFi speeds at the airport are best at San Jose International (SJC) with an average download speed of 203 Mbps. At this speed, you can download an HD movie to watch on the plane in about three minutes. In second place is Cincinnati International Airport (CVG) with an average download speed of 177.16 Mbps, while third place goes to San Francisco International (SFO) with 162.38 Mbps.
A total of 17 airports achieved average download speeds in excess of 100 Mpbs, including JFK, Fort Lauderdale, Daniel K. Inouye in Honolulu, and SeaTac. The full list of top performing airports is below: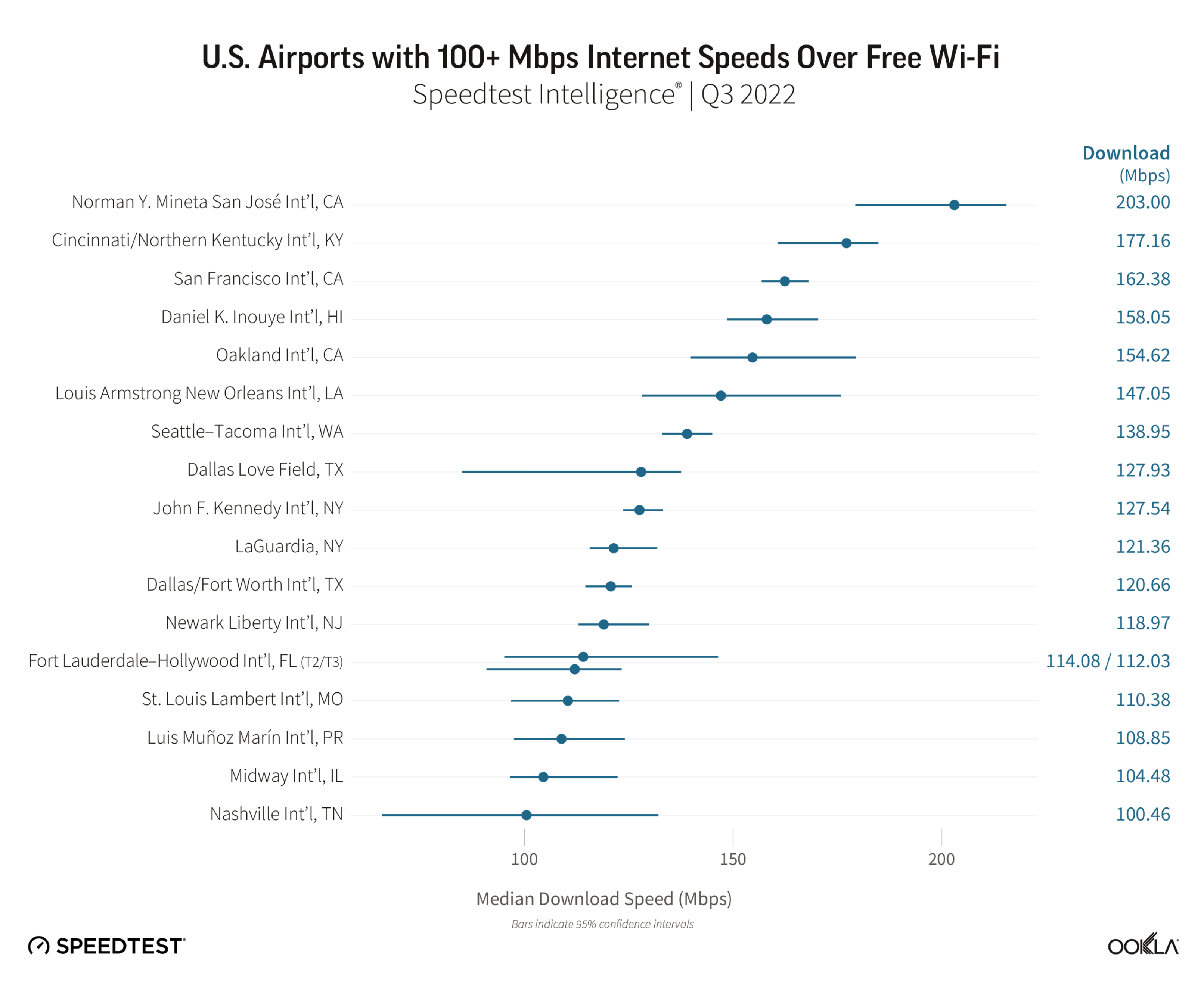 Data: OOKLA
Fast Wi-Fi can mean the difference between having something to see and read on the plane or not. These fast speeds enable video calling so you can enjoy that last visual touch with loved ones before you depart, as well as live streaming in HD so you don't miss this important sports game while you wait in the departure lounge.
Well on the way – 20 airports
Of the 50 airports surveyed, 20 provided an average WiFi download speed of between 50 and 100 Mbit/s. That's still fast enough to do all of the above — video calls, downloads, streaming — just maybe a little slower than the top 17 airports. For those who want to browse, download an audio book or video, or simply connect with friends and family, speeds of over 50 Mbit/s are sufficient.
At the top of that list is John Wayne Airport in California, missing out on the fastest WiFi team by just 2.8 Mbps. Fort Lauderdale reappears as its T1 and T4 WiFi is slightly slower than that of its T2 and T3 rooms. Detroit, Dulles, Miami and Regan National are also approaching the magic 100 Mbps.
Los Angeles averaged just over 50 Mbps, as did Orlando, Baltimore/Washington and Chicago O'Hare. The full list is below.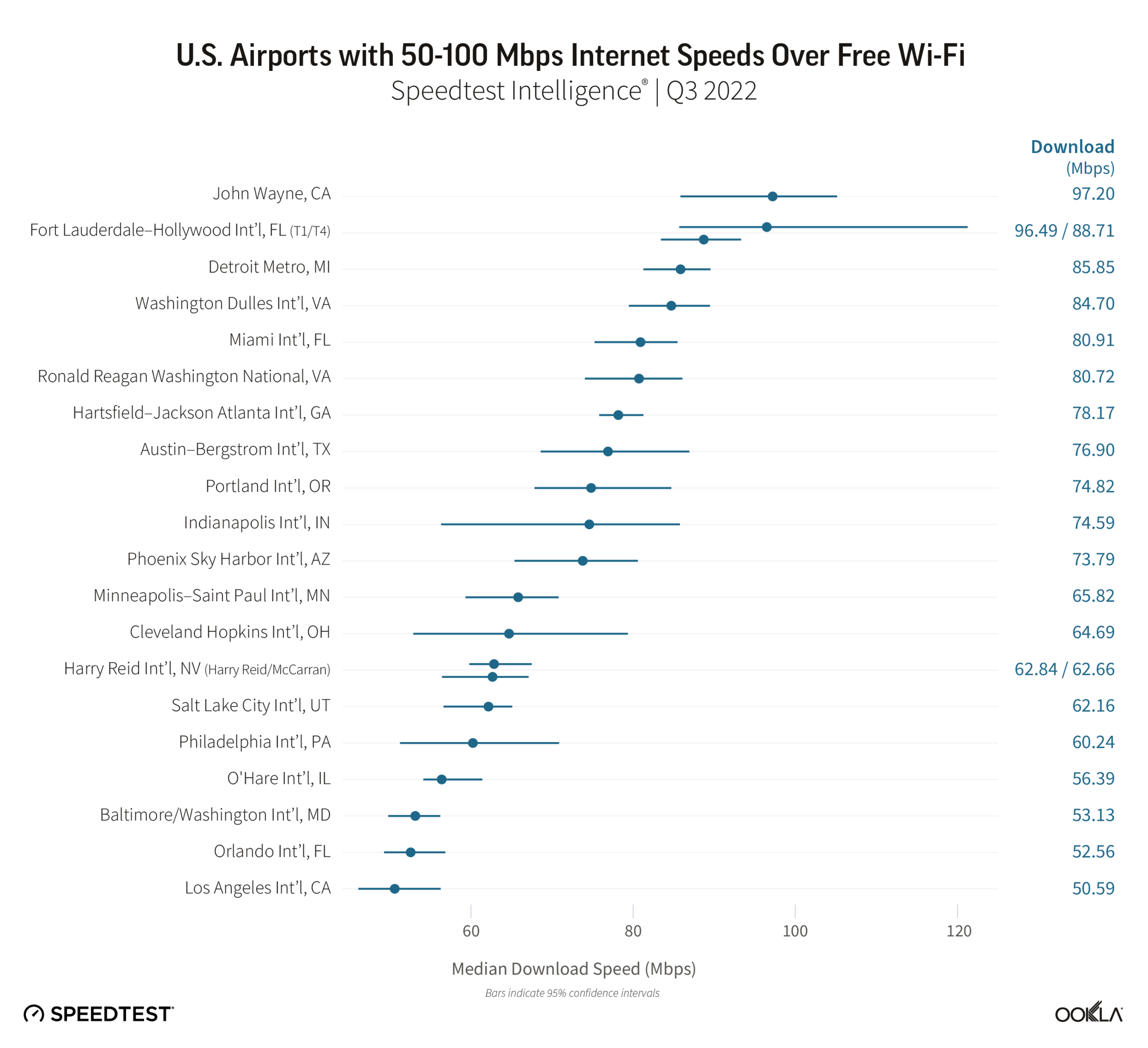 Data: OOKLA
And the airport with the worst WiFi is…
Bottom line with the worst WiFi in America (at least out of the 50 airports OOKLA visited) is Pittsburgh International. The WiFi returned an average download speed of just 5.23 Mbps, which could pose a problem for anyone traversing the facility. At home, with just one device connected to a 5 Mbps connection, you could probably surf, email, and maybe even (slowly) download a thing or two. But at an airport where several people are trying to use the connection at the same time, there is a high probability that the connection will become unusable.
Two other airports are getting the cooking spoon for potentially awful WiFi – George Bush Intercontinental (TX) and William P. Hobby (TX). Maybe it's time for Texas to invest in a better system? Four other airports returned links at around 20Mbps — Southwest Florida, Logan, Philadelphia, and Tampa — a more usable link, but still pretty slow given the age we live in. Interestingly, Philadelphia has two free WiFi connections, one of which was mentioned in the previous segment at 60Mbps. OOKLA advises that the fastest connection is via "Free PHL Airport WiFi" and that passengers should avoid the slower "Free PHL Airport WiFi-24".
The full list of the 12 slowest airport WiFi connections is below: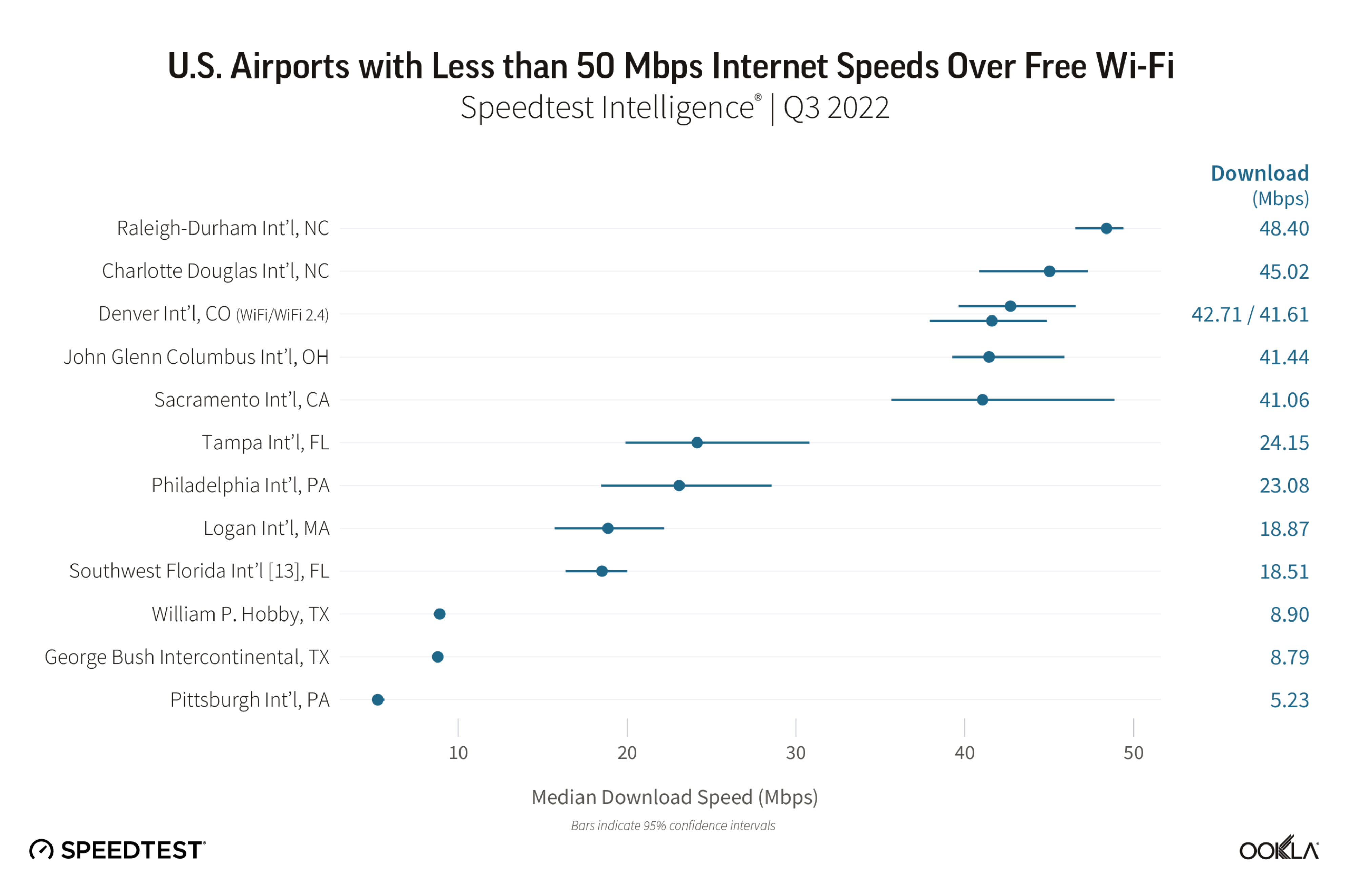 Data: OOKLA
lying around
OOKLA also reviewed airport lounges and found that only the Alaska Airlines lounge was able to deliver speeds in excess of 100 Mbps across all locations. United's clubs had the widest coverage, some delivering over 200Mbps (at SeaTac) down to just 50Mbps at Dulles. Delta Sky Clubs returned between 57 Mbps in Honolulu and 123 Mbps in Atlanta, while American Airlines snuck in at just 5 Mbps at Phoenix Sky Harbor but a decent 56 Mbps at Boston Logan.
What is your experience with airport WiFi? Let us know in the comments.
Source: OOKLA